Veal Piccata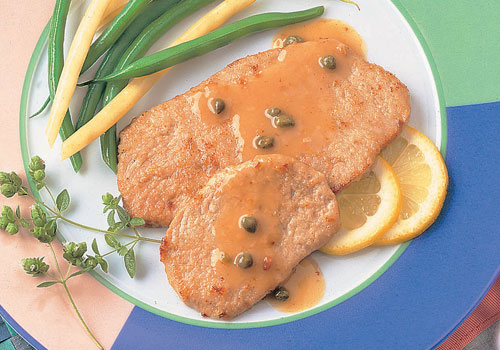 25 minutes
1 lb veal leg cutlets, cut 1/8" to 1/4" thick
2 Tbsp all-purpose flour
1/8 tsp paprika
1/8 tsp ground white pepper
1 Tbsp olive oil
Lemon-Caper Sauce
2/3 cup dry white wine
2 Tbsp fresh lemon juice
2 tsp drained capers
1 tsp butter
Pound veal cutlets to 1/8" thickness. Combine flour, paprika, pepper and 1/2 tsp salt. Lightly coat cutlets with flour mixture.
Heat 1/2 of oil in large nonstick skillet over medium heat until hot. Cook cutlets in batches, 3 to 4 minutes or until cooked through, turning once and adding oil as needed. Remove.
Add wine and lemon juice to skillet; cook and stir until browned bits attached to skillet are dissolved and sauce is slightly thickened. Remove from heat; stir in capers and butter. Serve over cutlets.
4 servings