Tenderloin & Garlic-Roasted Vegetables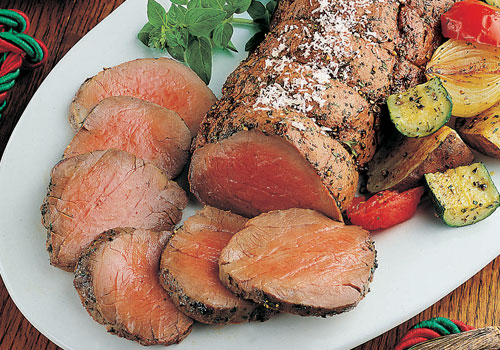 1-1/2 hours
1 whole beef tenderloin roast (4 to 5 lb)
1 tsp dried Italian seasoning
1/2 tsp cracked black pepper
2 Tbsp grated Parmesan cheese
Heat oven to 425°F. Combine seasoning and pepper; press onto beef roast.
Place roast on rack in shallow roasting pan. Insert ovenproof meat thermometer so tip is centered in thickest part of beef, not resting in fat. Do not add water or cover. Roast in 425°F oven 50 to 60 minutes for medium rare; 60 to 70 minutes for medium doneness.
Remove roast when meat thermometer registers 135°F for medium rare; 150°F for medium. Let stand 15 minutes. (Temperature will to rise to 145°F for medium rare; 160°F for medium.)
Carve roast; season with salt. Sprinkle with cheese. Serve with vegetables.
8 to 10 servings
Garlic-Roasted Vegetables
1 large whole bulb garlic
3 medium potatoes, quartered
4 small onions, halved
6 plum tomatoes, halved
2 medium zucchini, sliced (3/4")
2 Tbsp olive oil
1 tsp dried Italian seasoning
1/2 tsp cracked black pepper
1/4 cup grated Parmesan cheese
Cut off top of garlic bulb; wrap bulb in foil. Combine remaining ingredients, except cheese, in large bowl; toss. Place garlic, potatoes and onions in jelly roll pan. Roast in oven with tenderloin 30 minutes. Add tomatoes and zucchini to pan; roast 15 minutes longer or until vegetables are tender. Squeeze garlic pulp over vegetables; mix. Sprinkle with cheese.