Peppery Beef Rib Roast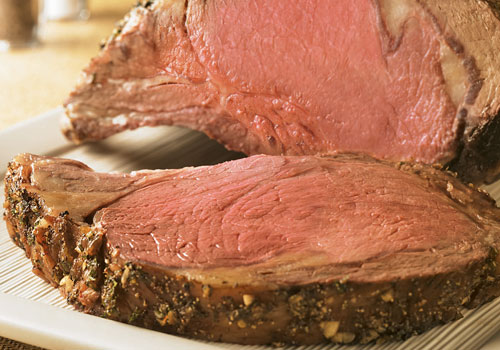 2-3/4 to 3-1/2 hours
1 beef rib roast, small end, chine (back) bone removed (6 to 8 lb)
1 can (14 to 14-1/2 oz) beef broth
2 tsp chopped fresh thyme
Rub
2 Tbsp pepper seasoning blend
2 Tbsp minced garlic
Heat oven to 350°F. Combine rub ingredients; reserve 2 Tbsp. Press remaining rub onto beef roast.
Place roast, fat side up, in shallow roasting pan. Insert ovenproof meat thermometer so tip is centered in thickest part of beef, not resting in fat or touching bone. Do not add water or cover. Roast in 350°F oven 2-1/4 to 2-1/2 hours for medium rare; 2-3/4 to 3 hours for medium doneness.
Remove roast when meat thermometer registers 135°F for medium rare; 150°F for medium. Let stand 15 minutes. (Temperature will rise to 145°F for medium rare; 160°F for medium.)
Combine broth and reserved rub in small saucepan; simmer 5 minutes. Add thyme; simmer 2 minutes. Carve roast; season with salt. Serve with seasoned broth.
8 to 10 servings