Merguez Lamb Burgers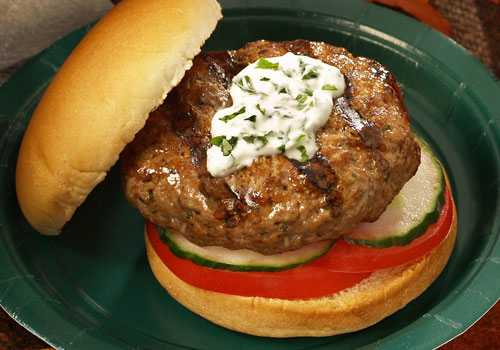 6 servings
Preparation time: 35 minutes
Cook time: 12 minutes
Burgers
2 pounds ground American Lamb
1 tablespoon finely chopped garlic clove
1/4 cup chopped fresh cilantro leaves
1/4 cup red wine vinegar
1 tablespoon sweet paprika
2 teaspoons ground cumin
2 teaspoons ground coriander
2 teaspoons salt
1 teaspoon cayenne pepper
1/2 teaspoon ground cinnamon
In a large bowl, combine lamb, garlic, cilantro, vinegar, paprika, cumin, coriander, salt, cayenne and cinnamon until evenly mixed.
Divide mixture into patties and refrigerate until ready to grill.
Yogurt Sauce
1 cup plain yogurt
1/4 cup chopped fresh mint
1/4 cup chopped fresh cilantro leaves
Combine the yogurt, mint and cilantro.
Cover and refrigerate until ready to serve.
6 hamburger buns
12 thin slices seedless cucumber
12 thin slices tomato
Heat gas or charcoal grill. When thoroughly heated or when the coals are covered in grey ash, place the burgers on the grill.
Cook 6 minutes per side, or to desired doneness.
Toast hamburger buns on grill. Arrange 2 slices of tomato and 2 slices of cucumber on each of the 6 bun bottoms.
Add Merguez burger, a dollop of yogurt sauce and bun top. Serve immediately.
Nutrition per serving
577 calories, 43 g protein, 25 g carbohydrate, 33 g total fat (52% calories from fat), 149 mg cholesterol, 2 g fiber, 1130 mg sodium, 12 mg niacin, 0.31 mg vitamin B6, 4.11 mcg vitamin B12, 5 mg iron, 8 mg zinc.
Recipe and image provided by the American Lamb Board