Meatball Sandwiches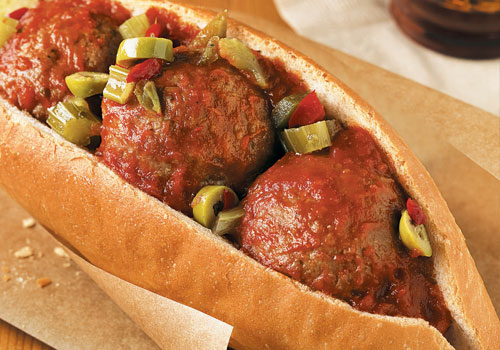 35 minutes
1 lb ground beef
1/4 cup seasoned dry bread crumbs
1 egg
1 tsp minced garlic
1 jar (14-1/2 oz) pasta sauce
Crusty rolls
Mild giardiniera
Heat oven to 400°F. Mix ground beef, bread crumbs, egg, garlic, 2 Tbsp water, 1/2 tsp salt and 1/8 tsp pepper lightly but thoroughly. Shape into 12 two-inch meatballs.
Place on rack in broiler pan. Bake in 400°F oven 17 to 19 minutes to medium (160°F) doneness, until not pink in center and juices show no pink color.
Heat meatballs in sauce. Serve in rolls with giardiniera.
4 servings