Grilled Beef Tri-Tip with Tropical Fruit Salsa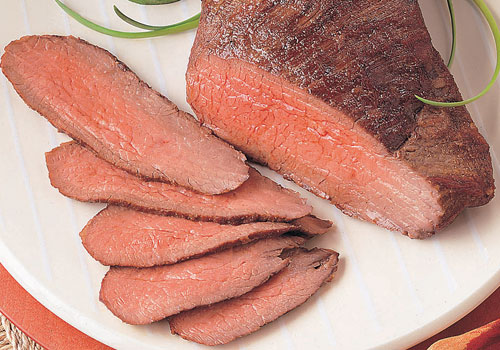 40 to 50 minutes
1 beef tri-tip roast (1-1/2 to 2 lb)
Lime-Honey Glaze
2 Tbsp honey
2 Tbsp fresh lime juice
1 tsp ground cumin
1 tsp dry mustard
Tropical Fruit Salsa
1-1/2 cups chopped papaya or mango
1/2 cup chopped plum tomatoes
2 jalapeño peppers, seeded, finely chopped
2 Tbsp sliced green onion
2 Tbsp fresh lime juice
1 Tbsp chopped fresh parsley
1 Tbsp honey
Combine glaze ingredients and 1/2 tsp salt in small bowl. Combine salsa ingredients in medium bowl.
Place beef roast on grid over medium, ash-covered coals. Grill, covered, 25 to 35 minutes for medium rare to medium doneness, turning occasionally. Brush with glaze during last 10 minutes.
Remove roast when instant-read thermometer inserted in thickest part registers 135°F for medium rare; 150°F for medium. Let stand 15 minutes. (Temperature will rise to 145°F for medium rare; 160°F for medium.) Carve across the grain into thin slices. Serve with salsa.
6 to 8 servings