Flank Steak Fajitas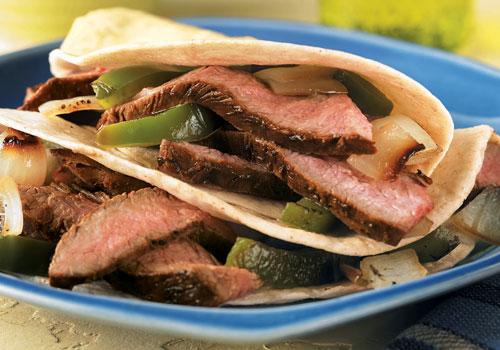 40 to 45 minutes
(Marinating time: 6 hours or overnight)
1 beef flank or skirt steak (1-1/2 lb)
2 large onions, sliced (1/2")
2 green bell peppers, quartered
12 flour tortillas (8"), warmed
Guacamole
Marinade
1 pkg. (about 1.25 oz) fajita seasoning mix
2 Tbsp fresh lime juice
Combine marinade ingredients and 1/4 cup water. Marinate beef steak in marinade in refrigerator 6 hours or as long as overnight.
Remove steak; discard marinade. Place steak on grid over medium, ash-covered coals. Place onions and peppers around steak. Grill flank steak, uncovered, 17 to 21 minutes (skirt steak 10 to 13 minutes) for medium rare to medium doneness, turning occasionally. Grill vegetables 13 to 16 minutes or until crisp-tender, turning occasionally.
Carve steak. Cut peppers into strips; chop onions. Layer beef and vegetables on tortillas; season with salt and pepper. Serve with guacamole.
6 servings
To Broil Flank Steak
Place steak on rack in broiler pan so surface of beef is 2" to 3" from heat. Broil 13 to 18 minutes for medium rare to medium doneness, turning once.