Braised Lamb Shanks with Artichokes and Fava Beans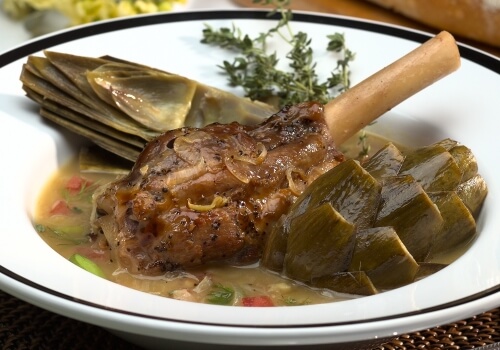 Recipe from Chef Pano Karatassos, Kyma Restaurant (Atlanta)
8 servings
Preparation time: 30 minutes
Cook time: 3-1/2 to 4 hours
8 American Lamb shanks
Salt and pepper to taste
2 tablespoons olive oil
1/4 cup butter, melted
2 tablespoons fresh thyme leaves plus a bundle of thyme
4 cups chicken broth
16 cloves garlic, sliced
4 medium onions, sliced
1/2 cup fresh lemon juice
2 Roma tomatoes, blanched in hot water 1 minute, peeled, center and seeds removed; cut into 1/2-inch pieces.
12 fava bean pods, beans removed from pod, boiled in water for 4 minutes, cooled, shelled and thinly sliced
Fresh dill sprigs
Braised Artichokes (Recipe follows)
Season lamb shanks with salt and pepper. In large skillet, heat oil over medium-high heat. Brown each shank on all sides. Combine butter and thyme leaves, baste shanks. Remove shanks from pan. Add broth, garlic and onions. Simmer for 6 minutes. Stir to get all of the delicious particles from bottom of pan. Arrange lamb shanks in large roasting pan. Pour in broth mixture. Add thyme bundle. Cover with foil. Cook in 325°F oven for 3-1/2 to 4 hours. (Meanwhile make braised artichokes.)
Remove shanks, cover and keep warm. Strain liquid and skim off fat. In pan combine broth from shanks and artichokes, add 1/2 cup lemon juice. Bring to a rolling boil and cook for 10 minutes. Warm artichoke wedges in broth just before serving.
To serve: Place each shank in large shallow bowl with broth, onions and artichoke wedges. Sprinkle with tomato pieces, fava beans and dill.
Braised Artichokes
2-1/2 cups white wine
2-1/2 cups chicken broth
2/3 cup extra virgin olive oil
3 leeks thinly sliced, white part only
2 carrots, thinly sliced
1 medium onion, thinly sliced
4 cloves garlic, crushed
4 large artichokes, trimmed and rubbed with fresh lemon wedges
10 thyme sprigs
In medium bowl, combine wine, chicken broth and oil. In pot with lid (large enough to hold artichokes in single layer), combine leeks, carrots, onion, and 1 cup broth mixture. Bring to a boil, reduce heat and cook on low heat for 10 minutes. Add garlic and artichokes stem-side up, cover and cook 5 additional minutes. Pour in remaining broth, cover and cook over low heat 35 to 40 minutes until artichoke bottoms can be easily pierced with fork.
Place artichokes and broth into a shallow container along with thyme. Allow to cool. Remove artichokes from broth, reserving broth. Cut into wedges, removing inside fuzzy section.
Tip: Braised artichokes can be made up to 3 days ahead.
Nutrition per serving
644 calories, 26 g protein, 29 g carbohydrate, 43 g total fat (59% calories from fat), 105 mg cholesterol, 8 g fiber, 1576 mg sodium, 7 mg niacin, 0.57 mg vitamin B6, 2 mcg vitamin B12, 5 mg iron, 6 mg zinc.
Recipe and image provided by the American Lamb Board