Beef Taco Wrap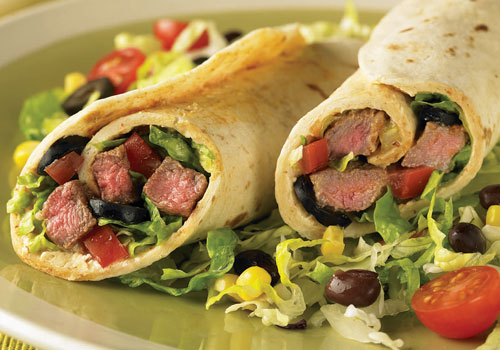 20 minutes
(Marinating time: 30 minutes)
1 lb beef round tip steaks, cut 1/4" to 1/8" thick
1/2 cup soft cream cheese
1 pkg. (1 to 1-1/4 oz) taco seasoning mix, divided
4 flour tortillas (10")
1/2 cup salsa
Toppings
Lettuce, tomatoes, ripe olives
Mix cream cheese and 1 tsp seasoning mix; refrigerate.
Stack beef steaks; cut lengthwise in half, then crosswise into 1" wide strips. Mix remaining seasoning mix with 1/2 cup water; toss with beef. Marinate in refrigerator 30 minutes.
Remove beef; discard marinade. Spray large nonstick skillet with cooking spray; heat over medium-high heat until hot. Stir-fry 1/2 of beef 1 minute or until surface of beef is no longer pink. (Do not overcook.) Remove. Repeat with remaining beef.
Spread cream cheese mixture and salsa on tortillas, leaving 1" border. Top with beef and toppings; roll up tightly.
4 servings