BBQ Beef Brisket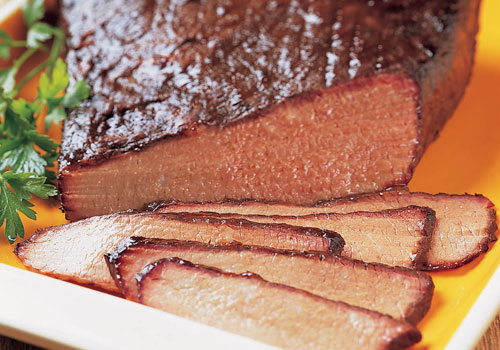 3 to 3-1/2 hours
2-1/2 to 3-lb boneless beef brisket
3/4 cup barbecue sauce
1/2 cup dry red wine
Rub
2 Tbsp chili powder
1 Tbsp packed brown sugar
1-1/2 tsp garlic powder
Combine rub ingredients; press onto beef brisket. Place brisket, fat side up, in stockpot.
Combine barbecue sauce and wine; pour around brisket. Bring to a boil. Reduce heat; cover tightly and simmer 2-1/2 to 3 hours or until brisket is fork-tender.
Remove brisket. Skim fat; cook cooking liquid, uncovered, 8 to 10 minutes or until reduced to 1 cup.
Carve brisket diagonally across the grain. Serve with sauce.
6 to 8 servings