All-American Lamb Burgers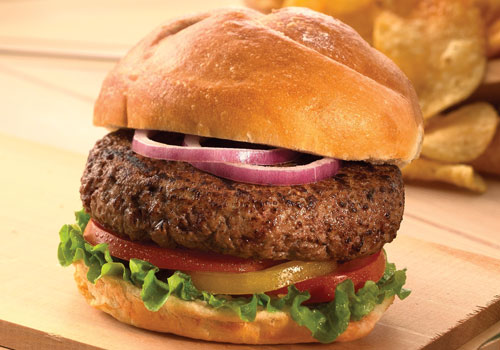 4 servings
Preparation time: 10 minutes
Marinate time: 1 hour
Cook time: 8 minutes
1-1/2 pounds ground American Lamb
4 teaspoons Worcestershire sauce
1 tablespoon balsamic vinegar
1-1/2 teaspoons garlic salt
1 teaspoon each ground pepper and dried thyme leaves, crushed
4 hamburger buns, toasted
Lettuce leaves, tomato slices, mustard, and catsup
In large bowl, blend together lamb, Worcestershire sauce, balsamic vinegar, garlic salt, pepper, and thyme. Cover and refrigerate allowing flavors to blend for 1 hour.
Form into four 3/4-inch-thick patties.
Grill over coals covered with gray ash 4 to 5 minutes per side.
Serve on buns with lettuce, tomato slices, and condiments as desired.
Nutrition per serving
608 calories, 46 g protein, 25 g carbohydrate, 36 g total fat (53% calories from fat), 165 mg cholesterol, 4 g fiber, 762 mg sodium, 13 mg niacin, 0.33 mg vitamin B6, 4 mcg vitamin B12, 5 mg iron, 9 mg zinc.
Recipe and image provided by the American Lamb Board